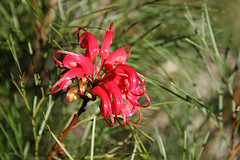 AUSTRALIAN SEED COMPANY ACCEPTS ORDERS FROM PURCHASERS UPON THESE TERMS:
Orders and requests for quotations may be made by phone, mail, fax or e-mail.
Prices: This list supersedes all previous price lists. All prices in this catalogue are expressed in Australian dollars at seed store, net of Goods and Services Tax. GST is payable on domestic orders upon issue of a Tax Invoice. Prices are subject to change without notice.
Except where otherwise indicated in this catalogue, the following rates apply:

      10 gms to 24 gms	..  at 10 gm rate	      100 gms to 249 gms ..  at 100 gm rate 
      25 gms to 99 gms	..  at 25 gm rate	      250 gms and above	 ..  at Kilogram rate

Weights are net, when packed. The smallest quantity quoted for a species is the minimum order accepted. Where possible we shall be pleased to quote discounted prices for large quantity orders.
Postage or freight on domestic orders is charged to the purchaser at cost – minimum $5 per despatch. Orders of less than $25 are subject to a handling charge in addition to postage.
Payment: New customers are requested to submit payment with their first order. Established customers may arrange credit account facilities, in which case payment is expected strictly in accordance with arrangements made.
Bankers: Our bank details are available on request.
Despatch: Orders are despatched by mail unless otherwise arranged. Risk in the seed passes to the purchaser upon our delivery to the Post Office, freight depot or other place of despatch. If required by the purchaser, transit insurance can be arranged by Australian Seed Company when the order is placed.
Availability of seed: Seed will often be available ex-stock. However, if requested, those seeds not immediately available may be placed on back-order for supply from the next harvest. Unsupplied back-orders are cancelled after 12 months. Forward orders may be accepted subject to crop success of the next harvest.
Seeds of many Eucalypts and several other native genera are supplied in the natural state, which includes a proportion of chaff, however, as required for automatic sowing equipment, seeds of many Eucalyptus and other native species can be supplied in pure form, subject to the quantity required permitting economic processing. Please enquire regarding prices and availability of this service.
Grass Seeds: Most grass seeds are collected from natural stands and may therefore contain a small proportion of other species occurring in the stand. Seeds of native grasses are usually supplied in the floret form, except where availability of pure seed is indicated.
The availability and prices of grass seeds often vary as a result of seasonal conditions and other causes. Please therefore regard our catalogue prices of grass seeds as indicative, and obtain an up-to-date quotation before ordering.
Species Identification: Parent plants are carefully identified, and independent botanical confirmation is arranged if doubt exists. We shall be pleased to consider the collection of seed from special strains or provenances of listed species.
OVERSEAS CUSTOMERS
Payment is to be submitted with the order unless prior arrangements for credit have been made. Payment should be made in Australian currency by Bank Draft, International Bank Cheque, Telegraphic Transfer or by Internet Banking. If by Telegraphic Transfer, a bank charge or $25 is payable by the customer, and this amount should be included in the remittance.
Quotations: Please enquire regarding availability of seeds and obtain our firm quotation prior to submitting an order. Quotations on an FOB, C&F or CIF basis will be provided as required. It is the customers responsibility to check with your quarantine authority and advise us of your country's import requirements. Documentation such as Import Permits, where necessary, should be supplied to us by the customer for inclusion with the shipment. If a Phytosanitary Certificate is required, Government fees and associated costs are payable by the customer, minimum charge $250 AUD.
Postage or freight on overseas orders is charged at cost. Overseas orders of less than $100 are subject to a handling charge of $10 in addition to postage or freight. If insurance is required, this should be arranged when the order is placed.
LIMITATION OF LIABILITY
Seeds are supplied for propagation only, and should not be used for consumption by humans or livestock. Propagation is subject to many variables over which we have no control and therefore productiveness cannot be guaranteed. In most cases seeds are collected from natural stands and characteristics can vary because of genetic variability. Impurities may exist in seed supplied, depending upon the practicability of their separation and removal. In all cases, and in any event, our total responsibility is limited to the invoiced value of the seeds supplied, which at our option we may replace with seeds of the same description, or may refund the cost. In no event will we be liable for any special, incidental, indirect or consequential damages or exemplary or punitive damage to persons or property.